The Best Holiday Itinerary for Anguilla Island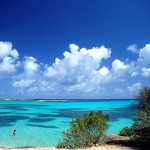 Anguilla is one of the most beautiful destinations in the Caribbean. For a long time it has lived up to it's catch phrase "the Caribbean's best kept secret", however more visitors are discovering this island and all it has to offer. It's laid back atmosphere, stunning scenery and exotic accomodations, makes it a must for visitors to the region. The island's small population and easy to navigate roadways also make it welcoming to tourists. For some interesting activities and "must-dos" in Anguilla please review the following list and choose some or all on your upcoming Anguilla Holidays.
1. Visit Shoal Bay
Located on the East end of the island Shoal Bay is extremely popular. You cannot visit here and not spend a lot of time on this beach, it is approximately 3 miles end to end and very lovely. Due to the nature of the finely ground stunning white coral rock, you can exfoliate your feet and receive a relaxing walking foot-massage by just taking your daily stroll.
The ocean around Anguilla is known for its crystal clear waters and Shoal Bay exemplifies this characteristic by offering the finest in snorkeling adventures; wading in the waves with the kids or even taking a quick dip while lounging on the many chairs available for rent.
(Hint: have lunch at Medeariman Reef Bar & Restaurant and get a complimentary pair of chairs right in front of their establishment. Food is phenomenal here, French cuisine with the best service on Shoal Bay – 264-497-5750). Shoal Bay is just what any doctor will order.
2. Wings on a Wednesday
Go to this lovely little casual dining restaurant called Ferryboat Inn. The owners are warm and very welcoming and undoubtedly serve the best wings in the Northern Caribbean. Request your spice levels and kick back and relax while you enjoy the ambiance of good fun, a nice mix of locals, expatriates and visitors and a gorgeous evening view of St. Martin from the breezy shoreline porch of the restaurant.
Remember wings are only on a Wednesday and a good time to go is from 6:30 p.m. Call them at (264) 497 8613.
3. Take a day charter around Anguilla and to its Cays
To enhance your true Caribbean experience to Anguilla take the picturesque day charter sail to Little Bay, Prickley Pear & Sandy Island.
The three most popular ways day charters can be arranged are:
1) Chocolat Cruises:
Sail on a lovely catamaran with Captain Ruan who is a history book of facts and his number one concern is ensuring customer satisfaction and safety. Day charters are arranged and pick up is at Sandy Ground. A very pleasant cruise and lunch is included at the Prickley Pear Restaurant & Bar also known as Agatha's. Make sure and meet Allan and all your service needs will be met. Your choice of Lobster, fish, crayfish or chicken. Helpings are large and quite worth the all-inclusive price. Feel like family at the end of the day as you bade your farewells until next time.
2) Johnnos Tours:
A traditional Caribbean built schooner takes guests out, partying all the way. Johnno himself operates a bar and restaurant area in both Anguilla and Prickley Pier – Lunch is included and drinks are complimentary in the charter fee. There is real value for your money (264-497-2728);
3) Anguilla Diving Company:
Diving tours and snorkeling adventures are the mainstay for this company, a very professional outfit and a certified diving school for the enthusiastic amateurs and seasoned professionals seeking undersea wonder of which Anguilla prides itself as well.
Hint: For those brave ones there is a forty foot rock you can climb at Little Bay and jump into the clear waters below. Caution you can climb up but once there it looks a lot more scary than from below and climbing back down is near impossible. You were warned but once your jump it you will certainly have great bragging rights.
4. Party on an August Monday
Once a year, this little island goes quite mad for their Carnival. Though some other larger islands provide a much better experience for tourists seeking the Carnival experience, Anguilla's August Monday party is second to none in the Caribbean.
The action starts with an early morning trek from the city center (The Valley) to the stunning white sand beach at Sandy Ground. This procession is referred to as J'Overt and is a hand down from the French influence in the Caribbean islands. Music trucks blare their latest local tunes (walk with your ear plugs for safety) and locals and visitors alike "chip" (a form of marching to the music).
If you are a first time visitor or crowds are not your thing, stand at the side of the road, enjoy the fun in the comfort of a shady tree or your rental (we recommend Bass Car rental 264 235 6484). Then when the road clears make your way down to Sandy Ground and join the fun. Best spot on the beach? Everywhere!
5. Pumphouse on a Thursday:
Many years ago Anguilla was known for its salt ponds. These were used to produce salt rocks that were carried to houses for grinding into fine salt. That business is long gone but some of the infrastructure remains. One such traditional converted "pumphouses" is now Anguilla's party central on a Thursday. Certainly it is never rammed with people but it does provide visitors and local alike a nice opportunity to listen to one of the islands premiere live bands. Get there around 11:00 p.m.
6. Ripples & Elvis' on a Friday:
Easily two of the favorite spots on the island. Start your night of fun by visiting the traditional English-style pub of Ripples and rub shoulders with the colorful mixture of locals, expatriates and visitors. This bar and restaurant comes alive from around 9:30 p.m. on a Friday. Play darts and join the weekly competition, anyone who can hold the dart in the right direction can play and it is good fun for all. 
You can also head over to an absolutely charming beach bar called Elvis'. 99% of the time the owner operator Elvis is there operating as the barman. This bar operates as an open air concept and truly gives visitors that Caribbean feel with the sand below their feet and the sky as their roof.
7. Saturday lunch at Smokey's:
Located at the Cove, you get to Smokey's by taking a left near the end of the Cove Road and follow the road to the parking lot. Cove Road is the first left after the West End Shell Service Center, heading westwards. 264 497 6582. This restaurant is renowned for its excellent meals. Don't go there if you are in a rush, but go there if your idea of enjoying your holiday is sipping on a nice cold drink looking at the gorgeous ocean and dazzling white sands while the air is filled with the delicious smell of your meal coming out of the kitchen.
8. Buffet dinner at Cuisin' Art:
Anguilla is home to luxury abode frequented by the super-rich and famous. But certainly there is room for everyone and affordable meals that all can enjoy. Try the Tuesday and Friday night buffet meals at Cuisin Art. Renowned for its clean eating, organic foods grown in its own massive hydroponic farm and excellent preparation by its many chefs, the buffet is the perfect way to enjoy a meal fit for a king at worker prices.
Tuesday is world delicacies night and Friday is Caribbean night. The approximate cost per person is USD$95 for adults and USD$48 for kids under the age of twelve. Remember to save room for the desserts because it will be the best you have on the island.
9. Mead's Bay:
For that total day of relaxation, no volume of people around you and to be at one with the ocean lounge on Mead's Bay. Go on the shore just in front of the restaurant called Blanchard's, which gives you an excellent view of the most picturesque side of the beach, a cove that sits right under the hotel called Malliouhana.
Go on a day when the beach is calm and you will feel like if you are looking at a well maintained swimming pool. This beach is a quiet one and it is recommended you go with that big hat, sunscreen and lots of water. The beach chairs on the beach are mostly available for guests of the establishments. Regardless of this when you take your first look at this beach, home comforts will not matter to you, you will just dump your stuff on the beach and wade into some of the loveliest waters in the Caribbean sea.
10. Picante for the best Mexican food:
If you want an affordable night out with your friends or family, try Picante restaurant for a homemade slant to Mexican food. The owners drive service home and helpings are large and food is fresh. Ask for the chicken fajitas served on a sizzling plate and enjoy. The chef and his wife are also the owners and see to your every comfort.
Make sure and call in for reservations as they fill fast! Call them at (264) 498 1616, if no one answers, leave a message with your request for reservations, they are very efficient. Have the house Margarita as well (if you can in a salted glass), it is divine!
SOME QUICK FACTS ABOUT ANGUILLA:
Anguilla is a British overseas territory and one of the most northerly of the Leeward Islands in the Lesser Antilles.
It consists of the main island of Anguilla itself, approximately 26 kilometers (16 miles) long by 5 kilometers (3.1 miles) wide at its widest point, together with a number of much smaller islands and cays with no permanent population.
The island's capital is The Valley located in the lowest part of the island and roughly in the center. The total land area of the territory is 91 kilometers2 (35 square miles), with a population of approximately 12,000.
It lies east of Puerto Rico and the Virgin Islands and direct north of Saint Martin/St. Maarten.
The island's currency is Eastern Currency Dollars however United States Dollars are accepted in all establishments (approximately USD$1: EC$2.68).
Best way to get to Anguilla? Fly in to Princess Juliana International Airport on the Dutch side of St. Maarten and take an airport taxi to Marigot on the French side of Saint Martin (about USD$18 for the taxi), take a ferry from Marigot to Blowing Point, Anguilla (USD$5 departure tax from Marigot and ferry ride USD$15).
View Larger Map