How To Make It Your Best Jamaica Holidays Ever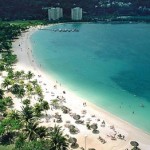 Jamaica contains its own special place in the Caribbean region. It is easily the most recognizable Caribbean destination in the world. Its famous musical, cultural and Olympic icons niche this island into one of the most sought after spots in the travel world today.
To say that the culture of the people are infectious is an understatement, going for any length of time to Jamaica and you find yourself falling for the foods, reggae, colors and the sense of freedom – you will buy something red, yellow and green or a souvenir with "no problem" on it!
If you have not visited Jamaica your friends may have described it for you – paradise. There is no comparison when you have the chance to look at the first light of day cast itself of Jamaica's Blue Mountains or you get that first smell of the best coffee on the planet grown right here. The island has gotten a bad reputation due to the high crime spots but the tourist areas are very safe and they know it is their livelihood.
To keep this to the "ten top things to do in Jamaica" would seem an injustice due mainly to the sheer size of Jamaica's tourism industry, so the main areas of Ocho Rios, Montego Bay, Negril and Mandeville have been selected and the top things to do are presented. Of course you may not get to all these areas based on where in Jamaica you decide to stay but there are good recommendations for wherever you decide to enjoy this holiday.
Enjoy your sweet Jamaican journey.
1.       Explore the high regions of Mandeville
Mandeville is the capital of the Jamaican parish Manchester and has been described by some as the most English place in Jamaica. It also has a very unique climate with temperatures getting quite chilly by Caribbean standards during the months of November to February. Visitors can enjoy scores of activities away from the large crowds and tourist traps.
Visitors may enjoy the opportunity to get closer to nature with tours such as Marshall's Pen. This is a privately owned estate that true nature lovers and bird enthusiasts can enjoy finding a large variety of bird species and many endemic to Jamaica. Call first to book at (876) 963-8569; (876) 904-5454 or; (876) 962-7890.
2.       Enjoy the splendor of the seven mile long Negril beach
There is something for everyone at Negril's famous seven mile beach. White sands extend in front of you like a carpet to heaven and indeed a holiday here can be compared to an out of body experience. In true Caribbean Holiday mode, one can find a host of beach activities from jet-skiing to banana boats rides or just "chill out" on the shore and soak up the rays. If you get hungry or thirsty, choose from the wide variety of bars and restaurants available. One tip to note is that there are many vendors that ply their locally made handicraft up and down the beach and can be a little persistent at times. If you are not interested a polite smile and "no thank you" will be well received. After a day of hard work relaxing, don't let it end there, this beach also comes alive in the night and visitors can enjoy nice dinners or party the night away Jamaican style.
3.       Visit Somerset falls in Port Antonio
For a nice light day with truly beautiful falls at the end you can visit the Somerset falls in Port Antonio. Port Antonio is the main town in the parish of Portland. An admission fee of approximately USD$10-USD$12 is charged and you enter the grounds and includes a guided tour. The highlights of this day include a nice shady walk on designated trails enjoys the flora and fauna of the surroundings and then taking a boat/raft ride to the falls. You are allowed to jump right in the very cool waters and frolic around until time to return. Note that you should call ahead or let your front desk do so as sometimes the falls are inaccessible with adverse weather conditions.
4.       Sample the best ackee and jerk dishes of your life – Throughout Jamaica
Jamaicans know their flavor and are lovers of spicy dishes.
With their jerk seasoning, just the smell of their grilled meat makes your mouth water in anticipation. Jerk seasoning is essentially made up of a rich mixture of the famous Jamaican Scotch Bonnet peppers, pimento (allspice), cloves, garlic, cinnamon, salt, thyme, black pepper and nutmeg. Meat is selected (traditionally chicken or pork but now extended to all types of meats – e.g. shrimp and fish)and the seasoning is pasted on and allowed to marinate for a long period of time, ideally overnight. With the soaked up seasoning in the meat it is tossed on the grill and comes out with perfection. These meats are often eaten with side dishes of rice and peas; Dumplings or Jamaican "festival". This Jamaican Festival is a mixture of flour, cornmeal, sugar, nutmeg, salt, margarine, water and lime juice shaped into fingers fried up in oil and served hot. Most restaurants serve this popular dish but be aware of the spice levels and don't go too brave all at once.
Ackee and Saltfish is the national dish of Jamaica mostly eaten at breakfast with johnny cakes (fried bread patties) or our favorite festival fingers again. This is another must eat dish. Ackee is a fruit with origins in Africa and the saltfish used is often salted cod. From the plantations to cuisine restaurants this dish has travelled through many decades and its taste still remains top notched. For a very filling breakfast in preparation for a tough day out go for this one, it is on most menus in Jamaica.
5.       Ricks café, Negril
For all out fun and a little taste of Negril history this is a hot spot of delight. Ricks café was one of the first of its kind in the area before the heavy traffic of tourism arrived. Being established and ideally located on a gorgeous Cliffside location only assisted in its popularity. From morning till night until morning (no typo there!) this place rocks. It is a favorite spot for the daily pilgrimage of visitors to witness the beautiful Caribbean sunset and each day is celebrated as if it were the last, not too bad at all. For the daring locals and visitors there are leap off points from the cliffs at Ricks café where you can test your fortitude and plunge into the ocean below, the highest point is over thirty feet. Some prefer to sip a cold one at the bar and relax, but you can try it if you wish. The menu at Rick's café is typical of the establishments in the area but the flavor of the dishes reflect the experience in the kitchen and this sets them apart from the rest. The chef is really good at what he does and your jerk dishes, burgers, steamed fish, steak or lobster (just to name a few) comes out in the true perfection that has made this spot a favorite for so many years.
6.       Visit the Falmouth Greenwood Great House
For a nice taste of history back to the colonial times of the island, you can visit the Greenwood Great House located in Falmouth, the main town in the Parish of Trelawny. There are a few drawbacks: Bad roads to get there; a fee of approximately USD$14-USD$20 to enter for adults and; service not consistently top notched, but really the antiques, musical instruments and look back hundreds of years ago wipe all that out for us. You travel back in times and look at the wonderfully preserved pieces and appreciate this island for its rich colonial past. There are pieces in the Great House exceeding two hundred years old and you history enthusiasts out there will love this trip.
7.       River raft on White river and then enjoy the Dunns River falls in Ocho Rios
This is a fun two part tour filled with excitement, cool water, even cooler drinks and absolutely beautiful scenery. With this combination you get a day mixed with some "let's get to those falls excitement" and some deserved "sit back and relax time."
Contact a good tour operator, there are many that will take you from your hotel or meet you at your cruise ship dock. Just confirm early with y
our front desk or activities personnel.
Begin the first part of the journey with your coach stopping at the gem of Ochos Rios, Dunns River Falls. Guides greet you and if required help your ascent up the falls. Sit and have the cool waters wash over your body and take many photos for this lifetime experience.
After all that excitement of Dunn's River Falls it's time to journey to White river. About twenty minutes' drive away what awaits you is impressive – have a seat on a hand-made bamboo raft seating two people (nice for couples) as your guide/raft captain navigates you down White river. A few stops are on the way to grab a drink or take a bathroom break. The guides are very experienced and their knowledge of the area and the river is indeed excellent.

8.       Coyaba Garden, Mahoe falls and Museum, Ocho Rios
If you appreciate the flora and fauna and like spectacular views this is the spot for you. This excursion is seldom overcrowded and spells for a nice light day out in the sun with some fantastic photo opportunities. There is a small museum on the compound where one can learn of the history of the area and the island but the real treat is the wonderfully-kept grounds and the small falls that cascade across the rocks. It is a favorite site for weddings and functions so if you are looking for a great spot this is it.
9.        Zip Line with H'evans Scent
Zip-lining over the age old tree tops have been gaining huge popularity throughout the Caribbean and Jamaica has been one of the pioneers in this region for this activity. Join the H'evans Scent company and allow them to safely expose you to the splendor of Jamaica from above. Very capable guides monitor you from platform to platform and when you get the initial butterflies out of your stomach, you will want to do it all over again. You are well-harnessed in and basically have to just enjoy the cool air and the views.
http://www.hevansscent.com/home.php
 10.   Martha Brae River, Falmouth, Montego Bay
This is another option similar to the White River tour. The Martha Brae River allows guests to once again climb onto those hand-made
rafts and let your almost "gondola-like" guide show you the scenery at an easy pace. Go when the weather is good and you will not be disappointed. This trip lends itself to an easy relaxing day, just what your Caribbean Holiday requires. The scenery on this trip is excellent with the true tropical foliage in all its splendor. Waterproof sunscreen, caps and sunshades are recommended. Make sure you do not walk with too much and what you do walk with can be easily left on your bus or stored in a zip-lock bag. This trip ranks as one that has been steadily growing due to the excellent service and the fun that is experienced by visitors. A stay at the Holiday Inn is recommended to visitors for its location and excellent customer service offered.
View Larger Map