Plan The Best Holidays To St. Kitts & Nevis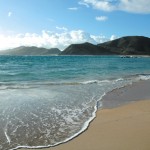 Saint Kitts (St. Kitts for our use) and neighboring Nevis are deemed one country under their federation. Both islands offer many similarities in their Caribbean setting as well as stark contrasts as the visitor delves deeper into their holiday. St. Kitts is the hub of activity, businesses, banking, government offices and so on. Nevis is much more on the quiet, slower paced end, offering peace and serenity all through the day.
These islands have not been negatively affected by the influx of tourism development but rather complimented by the artful management of accommodation balancing with the environment. Indeed St. Kitts and Nevis have been steadily growing on many the tourism itinerary and is now a major cruise ship destination.
For years these islands provided top revenue for the British empire through tobacco and sugar cane production and have moved away from those sectors, tourism is now the mainstay of the economy. Excellent governance has also encouraged foreign investment into these islands with a unique offer to potentials of citizenship once certain criteria of investments are met. They know what they are doing here and have taken careful, educated steps into the steady growth of their gems in the Caribbean.
Let's dig deeper now into some of the things you can do while on you Caribbean Holidays in St. Kitts and Nevis. We at Caribbean Insider's Guide® hope you enjoy your visit as much as we have many times!
1.       Let the kids take a vacation
Many times travellers to the Caribbean wonder what to plan for the kids when they get bored. Honestly, there is just so much basking in the sun and lounging they can take, after all, life is to explore not relax for them! With an initiative very similar to other islands like St. Lucia, participating hotels, private entities and tour companies in St. Kitts & Nevis offer a "kids are free" incentive program. In this kids from ages two to fifteen can enjoy many activities absolutely free while on the island. Activities include free golf lessons; snorkeling adventures, turtle watching, steel pan tutorials and cooking Caribbean dishes to name a few.
2.       Explore Basseterre, the capital of St. Kitts
With classic colonial architecture, the town of Basseterre will have you snapping away for those photo opportunities. Old buildings distinguished by their large stone construction line the streets. Retail stores and private businesses have taken up residence in many of these buildings renovating the internals whilst artfully maintaining the historical content of their exteriors. You will find yourself walking along corridors of these buildings which now serve as covered pavements, nice protection in case there is a quick shower. Vendors ply their trade outside most of these buildings and prices are quite attractive for those locally made trinkets and souvenirs. We encourage you to explore the capital on a Saturday morning, get out of bed at a reasonable hour and you will get to see the weekly buzz of the city. This is also Market day and you will be treated to the freshest Caribbean fruits and vegetables available on the island. Ground provisions are a favorite for the people of the Caribbean and you will see a bounty of those such as yams, cassava, sweet potatoes, dasheen and eddo to name a few with their Caribbean names. As well as foodstuff, the local artisans are out in their splendor marketing their arts and crafts and you get some fine deals.  
3.       Explore Caribelle Batik and the Brimstone Hill Fortress in St. Kitts
Caribelle Batik is a former sugar plantation with an excellent plethora of Caribbean foliage. The grounds are well-kept and really shows off the rich flora of the Caribbean climate. Of course you can look out for the ever present green monkeys which seem to be everywhere on the island. This location also gives visitors an opportunity to be exposed to the designing art form of Batik. This is essentially a fusion of different colors of dye and wax, enabling the designer to create intricate art on cloth. The product is beautiful and presented in vibrant Caribbean colors. There is also a retail outlet on the grounds if visitors wish to purchase any Batik as well.
The Brimstone Hill Fortress National Park is a designated UNESCO world heritage site. While we do try to keep away from the very touristy activities sometimes, this is one not to be missed. The brilliance of the view from the grounds of the fortress is worth the visit. This fortress was actually the largest of its kind in the Caribbean as St. Kitts was very valuable for its revenue it provided to the colonial powers through tobacco and then ultimately its niche crop of sugar cane. For a minimal entrance fee, visitors can explore the grounds touch the canons that guarded this islands coastlines hundreds of years ago and look at the engineering that took place so many years ago resulting in a structure that still stands tall today.
4.       Visit Sprat net for a great seafood dinner then head to the party strip in St. Kitts
Not on many travel reviews, we like to recommend this casual dining restaurant. It is home to some of the best local dishes in St. Kitts. The owners catch their seafood during the day and serve it to you in the evening. Other meats are also available and the Bar-B-Que and grilled options are really good. Try the whole snapper Caribbean style, the owners are so personable, you can even ask them if you can choose your fish or lobster and they will let you point it out as it chills on ice. Don't go here if you are in a rush as they make sure your food is prepared thoroughly and to their high standards. Helpings are plentiful and flavor is king especially when you ask for the local pepper sauce on the side. Side dishes include corn on the cob; johnny cakes (a type of fried dumplings) and/or fries. Types of fish offered can be influenced by what was caught during the day – they are that fresh! Sprat Net is located on Old Road Town, St. Kitts and be assured that every local knows where it is. They are open from Wednesday through Sunday usually at 5:00 pm to midnight. Their months of operation run from late September to early July.
5.       Drive the South East Peninsula Road
For a very scenic view of the island of St. Kitts, we recommend you get a rental and take off towards the South East Peninsula. This part of the island was largely inaccessible and it has remained relatively untouched. The new road that cuts into the outskirts of the hills offer several wonderful photo opportunities of the gorgeous landscape and deep blue ocean. This area has been carded for a huge resort development and there will be many changes coming fast over the next few years. The picturesque views will be hard to take away though so be assured this end of the island will be yours to explore for a long time to come.
6.       Climb the Nevis peak
This is a tough hike and if you didn't read well, a very tough hike in our books. We recommend a guide but have heard of several braver visitors tackling it by themselves. We like to say safety first and support the community. If you attempt this hike, ensure you are in fairly good shape, can climb (and descend) steep slippery slopes and can heave yourself up ropes at very difficult points. The view at the top would be spectacular if not for the almost constant presence of clouds; however there are many photo opportunities on the way to the summit. We have heard the stories of this hike being completed in three hours and even less, but we say reserve the better half of your day to cater for those breaks and careful climbing. Don't go if it's to rainy as you run the danger of too much of a slip, we will want your climb down to be done on your terms. Completing this climb will place you on top of one of the Caribbean's more challenging treks, who will not want to hold that title?
7.       Visit or stay at the five diamond resort in Nevis
The only resort in the Caribbean to receive such an acclamation of "five-diamond status", the Four Seasons resort in Nevis is the pride and joy of this island. Being the biggest employer and indeed changing the face of Nevis on a world scale, this resort is well appreciated by all and the service you receive will reflect this deep seated love by the people. Whether your passion is golf, sea activities or lounging all day long, the Four Seasons will not disappoint you.
8.       Bask on the gorgeous Nevis beaches
We like the more popular beaches of Nisbet, Oualie and Pinney's. Locals will tell you there are other options that are peaceful and secluded but Nevis is so quiet, their version of busy may be just the recipe of people factor you will appreciate. All beaches in St. Kitts and Nevis are public with easy access. The lovely beach at Pinney's is home to the Four Seasons resort so that is a really nice one to visit. All have good bars and eating facilities. Beach chairs can be rented and you can relax the day away. Nevis is a stark contrast to St. Kitts with the former being very quiet, sleepy at most times and the latter being the hub of business and all other activities.
9.       Golf in Nevis
Open to visitors (non-guests of the Four Seasons resort) outside of the months of December and January, the Four Seasons resort in Nevis is a must for golfing enthusiasts. Rated as one of the best courses in the Caribbean, this 18-hole beauty compliments its Caribbean surroundings perfectly. Equipment and a host of services are available to you and a day of enjoyment is a guarantee. If you are staying in St. Kitts it's not a problem, take the early ferry from Basseterre to Charlestown and enjoy a full day until you are ready to depart. Check your front desk for a ferry schedule. It is the best way to travel as you get to enjoy the scenic coastline, relax on board on the upper deck if you wish, feel the warm Caribbean breeze and on top of this get to play golf! Isn't this perfect?
10.   Dive off the shores of St. Kitts and Nevis
There are dozens of wrecks off the coasts of St. Kitts & Nevis and whatever your level of experience in scuba diving the very able companies will cater to you. Some of these companies include:
Bay Road, Newtown
St. Kitts, West Indies
Tel:                                 (869) 465-2670/1950
Fax:                                (869) 465-2670/1950
Email:                            info@kennethdivecenter.com
Basseterre
St Kitts, West Indies
Tel:                                 (869) 465-1189
Fax:                                (869) 465-1675
Dive Website:            www.divestkitts.com
Hotel Website:          www.birdrockbeach.com
Email:                            dive@divestkitts.com
Oualie Beach,
Nevis, West Indies
Tel:                                 (869) 469-9518
Fax:                                (869) 469-9519
Email:                            info@scubanevis.com
View Larger Map