Make It The Most Memorable St. Lucia Holidays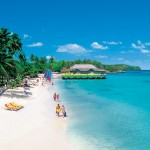 A very popular Caribbean tourist destination, one widely acclaimed by international tourist reviews, wedding destination planners and travel agencies. St. Lucia has been described as a little island with something for everyone.
Arrivals year on year are increasing to this little Caribbean Holiday gem and repeat visitors are very high. Of course St. Lucia is renowned for being a honeymoon and wedding destination with several hotels, resorts and villas catering to this niche market. But there are also loads for family fun, relaxation and eco-adventures, St. Lucia ranks very high with activities in these areas for the young and not so young amongst us.
St. Lucia's marketing drive by their tourism authorities has been excellent over the years and their all-inclusive package deals, high levels of service and ease of travel make it a preferred destination by visitors. The island prides itself with that "legendary getaway" and we agree by virtue of the priority given to the sector.
Read on for the top ten things to do while on your St. Lucia holiday.
1.       Take a rainforest trek
One of the "must-dos" of St. Lucia is to experience their natural rainforest. Whether an eco-lover or not, this is an adventure you will appreciate. This activity allows guests to choose between a tram sky-ride, a nice walk on trails or the exciting zip-lines through the tropical foliage.
There are two main companies that operate all or a few of these activities:
One company is called rainforest adventures, St. Lucia. They have companies in Jamaica, Dominica, Costa Rica and St. Lucia. This company offers the full slate of sky-ride, hiking and zip-lining. They cater to you whether you like to sit and view the forest from above from the comfort of a sky tram chair, get those harnesses on and zip through the treetops or hike into the many trails and enjoy nature to the fullest.
http://www.rainforestadventure.com/welcome_to_rainforest_adventures_st_lucia/
The other company is called Palm Services Ltd. – The St. Lucia adventure treetop ride. They have also received several accolades for the high level of service rendered to guests. The offer activities such as zip-lining, hiking, cycling and kayaking all with the highest appreciation for the environment and educating their guests.
http://www.adventuretoursstlucia.com/index.htm
Both offer the core of their activities from the North Eastern side of the island in an area known as Chassin.
Please note that zip-lining is not for everyone and you must sign a disclaimer before taking part. So if you feel you are not physically fit or you are a mom expecting or you fear heights, then stick to the lesser adventurous activities. Your goal here is enjoyment not upsetting your holiday. If however you can manage it, then by all means make your choice and go for it. This will easily be one of your more memorable experiences while in St. Lucia.
Tours take part in the largest of St. Lucia's rain forest reserves and guests should abide by the conservation rules. This is a for example a non-smoking area and littering is strictly forbidden. Enjoy it and leave it natural for others to enjoy after you as well.
2.       Hike Gros Piton
The symbols of St. Lucia are its Piton mountain peaks, Gros Piton and Petit Piton located on the Western coast of the island. Hiking is recommended only for Gros Piton as Petit Piton requires some rock climbing that might be a little too exhilarating. This area is a recognized UNESCO World Heritage site. 
Hiking Gros Piton is not a walk in the park either, this trail goes from moderate to difficult quickly but the views and fulfillment when you reach the peak are something to look forward to indeed.
The hike can take hours to complete, depending on your fitness about three to four hours one way for the average folk, so don't go planning any lunchtime spots in a hurry. Make an early start as in the Caribbean temperatures tend to get up there quickly. Make sure and hydrate and walk with lots of water. Have your insect repellent, shades and hat and of course proper footwear, this is not a flip-flops walk.
This hike is moves from moderate to difficult quickly, it is recommended that you are in good shape and can withstand the stresses of a steep and sometimes continuous uphill climb.
Of course you should go with a guide, use ones like heritage tours which specialize in these treks – http://www.heritagetoursstlucia.org/index.html.
Alternatively, you can go into the community itself located at the foothills of Gros Piton peak called Fond Gens Libre meaning "valley of the free people" and hire a guide from the Gros Piton tours company. Representatives will take you to an interpretive center where they will let you know what your tour will entail and how prepared you should be. Funds for this tour also go back into this rural community and most or all of the guides are from around and have grown up in the mountains and foothills.
Climbing Gros Piton is surely a worthwhile effort, but not for everyone. Visitors can also choose to take a boat from Soufriere and look at both majestic peaks from a distance which allows you to capture many fine photos, postcard style guaranteed.
3.       Take a relaxing horseback tour
This is a favorite of visitors to St. Lucia. Many used the renowned Trim's National Riding Academy. They are located in Cas En Bas, Gros Islet on the northern end of the island. Trim's is the largest riding facility with many years of experience.
They offer various riding packages such as through their scenic northern area or riding along the beach and swimming with your horse in the ocean. They offer trail rides and Bar-B-Que party rides upon request. All of their horses are well-trained and approved for beginner, intermediate and experienced riders. There are professional guides and handlers guiding all tours. Trim's also offer advanced riders and horse owners to ride bareback or gallop along the beach, but this has to be approved by the head guide.
Lessons for beginners and children are also available. 
Phone: 758-450-8273; Website: www.trimsnationalridingacademy.com
4.       Take a first, second or whatever the number honeymoon
St. Lucia is the honeymoon capital of the region. It ranks as one of the best destinations for newly-weds and for those seeking that very romantic getaway. For more on honeymoons in St. Lucia, please visit the Caribbean Honeymoon page or refer to a prior post – Honeymooning in the Caribbean.
St. Lucia has won numerous awards in the category of "best honeymoon destination in the world" and is highly sought after, so why not experience what makes them so good? Whether celebrating, reminiscing or rekindling that fire, we assure you that St. Lucians and their many associated services for ensuring your privacy and pampered holiday know their stuff. Locals and visitors alike say that this country is dedicated to couples in love and so they are and so you will be convinced upon arrival.
The ease to get married in St, Lucia is also what sets it apart from many other destinations. With no overbearing red-tape, stipulated time periods or hassle with paperwork, they make it quite easy for you and your loved ones. Many resorts offer staff dedicated to wedding planning, perfection and execution and allow you to enjoy other things rather being at each other's throats on this spiritual occasion.
You can choose one of the exotic locations to get married throughout the island, imagine giving your vows against the Piton Mountains which have stood there throughout the ages, we are sure you will get into that symbolic mood as well after seeing it for yourself.
5.       Take a Golf holiday
St. Lucia offers some of the best golfing throughout the Caribbean. The Saint Lucian Golf Club is located at Rodney Bay, Gros Islet. Visitors can be facilitated from a round of golf and equipment to full-fledged lessons from seasoned professionals. The sheer beauty of the design of this par-71 course will take your breath away with its palm trees, ponds and tropical foliage. After a turn on the course, visitors can relax at the clubhouse and sip on a few island specialties.
Phone: (758)450 8523; Website: www.stluciagolf.com
6.       Take a nature trail hike
Venture into the central portion of the Saint Lucian rainforest at the foot of the island's highest peak, Mount Gimie. This remote forest is thick and lush and incredibly scenic. Due to its general inaccessibility the forest is rich in avian life including the Saint Lucian Parrot and the Saint Lucian Oriole. The 2.5 mile long hike is rated moderate to strenuous, but is rated overwhelming in beauty and wildlife. The name "Enbas Saut" translates into "beneath the falls" and thus the two waterfalls encountered along the way definitely add to the appeal.
7.       Take a family vacation
St. Lucia offers visitors with children special rates and packages. Lovely hotels like Smugglers Cove and Almond Morgan Bay have competitive rates that are affordable and filled of fun-packed adventures. Hotels will hold special children activities and often chaperone your kids while the grown-ups enjoy other activities such as soaking up the Caribbean sun on the sand or poolside. Ask for the "go bananas" promotion when booking to learn of participating hotels. This promotion is mostly held during the summer season and allows children under the age of 17 to qualify for various free incentives and learning based programs.
8.       Go to the St. Lucia Jazz Festival
Yet another way St. Lucia has niched themselves on the regional and international stage is through their now famous Jazz festival. In 2011, it will mark twenty years that this island has attracted top performers at affordable prices. Held in the month of May, the Jazz festival has evolved from being a pure Jazz celebration to a crucible of musical forms. There is now a complimentary fusion of Jazz, new age Jazz, R & B and Caribbean reggae to name a few originating from all parts of the world. Influences in this event can come from the USA, Europe, Africa, the Caribbean and Latin America. It is a local and visitor favorite and we advise that should you choose this time period to visit the island, make sure you attend at least one of the days and please book early as rooms go extremely fast.
9.       Eat so much in St. Lucia
This island has been influenced by so many rich cultures over the years it is no wonder that it has resulted in some of the finest culinary achievements in the Caribbean. St. Lucia's heritage stems from French, British, African, Indian and the first natives, the Amerindians. Many international based fine dining options are available and highly recommended however we always like to stick in a plug for the local cuisine. Anything incorporating seafood such as fish freshly caught is a winner in our books. Visitors of the Caribbean delight at the explosion of flavors like the whole red snapper in creole sauce or freshly grilled lobster in a garlic butter sauce accompanied by Caribbean ground provisions and vegetables. The climate is a perfect catalyst for growing natures finest so why not enjoy it to the fullest?
10.   Have a Heritage tour
The St. Lucia Heritage tourism association owns and operates Heritage tours and this entity offers a wide range of top-notched tours. We especially like the Mamiku Gardens Heritage tour which is set on over twelve acres of Caribbean natural woodlands but you can chose from the elaborate menu of options. Other tours include:
Anse La Raye Fish Friday – Here the village of Anse La Raye comes alive on Friday evenings to share their bounty of sea food, music and folklore with visitors;
Toraille Waterfall  – This tour carries you to a magnificent waterfall which sends water from over fifty feet high into a pool below. On days when the water's force is bearable, guests can venture under the falls themselves and experience their personal hydro-massage;
Piton Flore Nature Trail – This trail takes visitors up to the summit of Piton Flore and on the way you will enjoy the large fig trees, huge ferns and beautiful epiphytes. If you are lucky you may hear the call of the St. Lucian parrot. If you are extremely lucky, you may even see this rare bird. The pinnacle of this tour is the breathtaking views of the island at the summit, so make sure that camera is charged to go.
View Larger Map