The Best Of Two Countries St. Martin/St. Maarten Island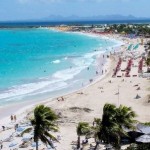 One island with several different cultures to enjoy. The dominant two being Dutch (Sint Maarten) and French (Saint-Martin).
This is one of the most visited islands in the Caribbean region. Sint Maarten, Saint-Martin or SXM whatever the name you want to refer to it is a truly wonderful destination. Catering for all brackets of incomes, there is something for everyone on this vibrant, exciting and 24/7 fun-filled island.
Measuring just 87 km2 (34 miles2), the island is shared by treaty between the French and Dutch in a wonderful unison since 1648. The French side is approximately 53 km2 (20.5 miles2) and the Dutch side is approximately 34 km2 (13.1 miles2).
The population of the island is estimated at over 80,000 but seems to be more when you get there. Compare that to Anguilla which has similar square footage to Sint Maarten and Saint-Martin (SXM) combined, but has a population of only about 12,000. Such is the popularity of this gem in the Caribbean chain of islands.
Don't be worried for border checks between the Dutch and French sides, there will be no big burly border patrolmen watching you with great suspicion. Instead one can drive easily from the Dutch to the French side and vice-versa just noticing the markers and flags on the side of the road indicating to you that you are in another country! How easy can that be?
Enjoy some of the common and not so common top ten things to do while in French and Dutch gem in the Caribbean.
1.       Experience Sunset beach
There is an activity or popular hobby referred to as plane-chasing where people fly to different parts of the world to capture on film or experience the awe of planes landing or taking off from various vantage points. Let's just say now, SXM is number one without comparison. Go to the Dutch side and find your way along the road on the fence bordering the Princess Juliana International Airport and you will arrive at a spot called Sunset Beach and yes as is consistent with the unofficial SXM partying policy, there is a fantastic bar close by. The very famous Sunset Beach Bar & Grill, revamped and serving hundreds per day. Go there for lunch; the foods is plentiful and very good, grab seat on the wooden deck preferably near the railings and prepare to be overcome by the sheer power and excitement that you will witness.
Planes from all over the region and the wider world come to SXM especially during the high season. The main treat is the bigger aircraft like the Air France Air bus and the monster KLM Boeing 747. From afar you see the speck, then the dot nears and becomes larger, the excitement builds and then like a rush you have never experienced before this giant of aircraft mastery comes in for a landing so close that you tell yourself that this cannot be legal. The plane lands suddenly on the runway to cater for the shorter than normal length (work is currently underway to lengthen the SXM runway) and the roar of the engines make it impossible for a brief moment to hear yourself.
Stay from the safety of the Sunset Bar & Grill deck to experience the planes coming in. Many people like to lie on the beach and let the planes fly over them or some like to hang on to the wire to be airlifted by the wind generated by the engines when the planes are ready to take off, still others like to stand on the sands and be thrown back into the water by the force of the take-off. Don't do that, sip on a Caribbean drink, enjoy the sights and be safe. The thrill is just about the same from seeing these planes so closely and from the comfort of your perch.
2.       Experience the French culture
No matter where the French go they carry their unique proud culture entrenched in a rich history for all of us to enjoy. The food is one of the greatest accomplishments and this island does not disappoint. French cuisine on the French side of SXM is a must. 
Go to Tropicana restaurant located in Marigot on the Marina Royale compound. The restaurant is relatively small and for high season, reservations are recommended. Once there and experiencing the food and service, you will understand why we select here first. For those of you not allergic to shell fish, go on a Thursday to Tropicana and get fresh mussels in a beautiful white wine sauce. Make sure you have your French bread and/or fries on the side. For this restaurant it is also recommended to leave room for dessert as their pastry chef is one of the best on the island. Desserts come out looking like works of art and taste is phenomenal. Shoot down an expresso or the house rum (complimentary for patrons) and be on your way. Go to Tropicana for lunch or dinner and please make sure you call first or have your hotel front desk do so for reservations. Don't chance not getting a spot here.
Visitors can also experience the best in French style breakfast or brunch on the island. Just near to the ferry complex in Marigot on the main road running parallel to the harbor front road, there is a string of French Patisseries and bakeries. Go to any one of them!
The competition keeps them on their toes and the food is delicious. Not a cheap breakfast but worth it. Most restaurants have free Wi-Fi and you can walk with your laptop. No one will rush you as the French believe in enjoying ones food.
3.       Take a day trip on a Scoobi
One of the best ways to experience the Caribbean is from its waters. The islands are blessed with warm tropical waters, most a lovely turquoise in color. SXM offers some of the best water adventures in the region. Choose from one of the day trips on board the Scoobi vessels. Very popular packages are the day trips from SXM to Anguilla or from SXM to Prickly Pear, if you can do both, then all the better.
Check out the link and book your spot – http://www.scoobidoo.com/. Food on board is great, there is an open bar, though we must warn you not to overdo it as you have to remember you are on the ocean and don't want to be stuck in the bathroom or facing a bad day the next day. The service on board is also wonderful from the staff as they are seasoned in the tourist industry and guarantee good fun to be had by all guests.
You also get a nice way to experience some of the best beaches and waters in between these particular islands. Anguilla is still described as relatively untouched and preserved. Indeed when you approach this island it really looks like something you see on someone's screensaver! But pinch yourself and jump in the water (or slide down the vessel's waterslide) and experience some of the best bathing in the Caribbean. Prickly Pear also is an extremely picturesque destination that you are sure to enjoy.
4.       Go to Orient Beach
It is carded as SXM's best beach. Go here for a few hours to enjoy the crowds and some very good options for food and drinks. Orient beach receives mixed reviews mainly because it cannot be described as that proverbial Caribbean beach that you picture with the wide expanse of white sand and picture perfect calm waters. This beach is more for people watching, showing off your body (especially on the clothing optional end of the beach, the southern side – look for the signs) and enjoying a very vibrant day with friends. This is hardly a "walk with your book and relax" beach.
Be sure to have lunch at one of the many food shacks on the beach and experience the lovely food preparations Caribbean style.
Food is similar throughout the beach strip and make sure you look for the specials on the chalkboards outside the establishments. Choose one of the following or go on your own food finding mission, again, most of these joints serve really good food and of course drinks go hand in hand with that! Try shacks like Kakao Beach, Bikini Beach or Palm Beach restaurants, you will not be disappointed. 
5.       Experience Casino – Caribbean style, Maho and Princess
SXM is like a Caribbean version of Las Vegas at night – of course not on the North American scale, it still does pretty well; the Casinos are deemed as world class and attract people from all around the world. Think of it, the warm weather, good fun and potential to win a little, can this holiday get any better?
For the fun mixed with excitement we recommend Casino Royale, run and operated by the Sonesta Maho hotel and the Princess Casino located at Port de Plaisance. Both these places offer guests fun for whatever your betting preference, live shows and complimentary drinks for players. The floor is covered with the latest in slot machines other chance gaming machines. Then there are the tables for the more serious gamers. Be it black-jack, poker or roulette, the professional dealers and table operators are at hand to serve you.
Live shows are also a feature of the busier nights and guests are treated to dances, songs and perhaps even a band full of local and Caribbean culture. 
A note about Princess Casino, Port de Plaisance – This casino is not only the largest on the island and one of the largest in the Caribbean but also there are fantastic views if you follow the pathways on the grounds. Go onto the pier where more often than not, you will see the marina there full of world-classed super and mega yachts. Also there is a fantastic restaurant there overlooking the marina if you feel for a light snack or even a full dinner.
Also a note about Casino Royale – it is on a stretch of road in SXM that is really party central. The streets are lit at night, crowds are plentiful and everyone seems to be in a great mood. For a quick snack and/or some good entertainment check out Cheri's Café right next to the casino. 
6.       Go shopping
Shopping in SXM is a pleasant experience as the island's administrators have attempted as much as possible to make it memorable to visitors. The main shopping area is located on the Dutch side of the island in the main city of Phillipsburg. Go to Front Street for all the high end brands, jewelry, liquor and electronics. Go to Back Street for the cheaper stuff but markedly better bargains.
Front Street takes the form of a very long cobble-stoned street where visitors stroll on the pavements leisurely and drop into stores that interest them. The shop owners mostly operate their own stores so customer service is always very high.
Many visitors are under the impression that Front Street offers more bargain than they would otherwise get elsewhere for duty-free goods. From our experience this is not totally true. The shop owners on Front Street especially have formed almost a consortium among themselves over the years. You do not get superior pricing versus anywhere else. They will pull out the calculators and refer to the Manager for "bigger" discounts it is really all in their tactics to trap the sale, their margins are extremely high.
A good tip if you must have that fabled "bargain" is to go for the opening of the stores, many of the shop's owners are superstitious and will give maximum discounts to get that first sale of the day, if you think you can bargain, go for it, pretend to walk away and they will most likely call you back, but remamber again, they are still making maximum margins on you.
For shopping on the French side, go to Marigot. The brands are mostly European and quality is high, but so are the prices, so be warned. There is no bargaining on this side, you will hardly see calculators being whisked out. The shopping on this side gives you a more kind of sophisticated feel and you have to be prepared to shell out some funds if you plan to splurge here.
Phillipsburg shopping is our recommendation as you can get your trinkets, good snacks along the way and possibility to get your duty free drinks, a little jewelry or some of the latest electronics. We recommend for you electronic buffs out there, Boolchan's or Klass Electronics. For jewelry and liquor, you choose as there are too many to pick from, but compare your prices by walking from store to store a lot.
7.       Go scuba diving
SXM offers world classed scuba diving and snorkeling for visitors. Divers from first timers to seasoned enthusiasts are never disappointed with what SXM has to offer in this area. One can find activities from close encounters with sharks and dolphins to exploring underwater wrecks and corals. Diving is not excruciating either, usually at moderate depths of 60 feet (18 meters).
Proselyte Reef is the most popular dive site and is made up of several ridges of coral reefs and offers really fantastic diving. The sea life and underwater terrain here is world class and you get to experience it in the warm Caribbean waters.
A seldom known diving fact is that you can even find couples arranging their wedding underwater! Yes, SXM does have it all. Dependent on the season, divers can be lucky enough to see pods of whales (pilot and hump back), possibly on their way down to the feeding and mating grounds of Dominica. Explore the sunken wrecks, many purposely sunk to encourage sea life and artificial reefs.  Most of St Maarten scuba diving is off the southern coast stretching around the eastern side of the island that faces St. Barth's to the northern tip at Tintamarre.
Dive Centers on the Dutch side:
      
Bluebubbles Dive Center-Philipsburg/Oyster Pond info@bluebubblessxm.com-554-2502
Caribbean Dive College-Phillipsburg (Bobby's Marina) caribbeandivecollege.com-587-0024
Dive Adventures-Simpsons Bay (Pelican Resort) aquqmania@sintmaarten.net-544-2640
Dive Safaris/The Scuba Shop-Simpsons Bay divestmaarten.com-545-3213
Ocean Explorers-Simpsons Bay (Kimsha Beach) divesm@caribserve.net-544-5252
Scuba Fun-Great Bay Marina, Philipsburg-contact@scubafundivecenter.com-542-3966
Caribbean Explorer-Philipsburg caribexplorer.com (live aboard)
On the French side:
Octopus Diving Center-Grand Case info@stmartinscuba.com-29 11 27
The Scuba Shop-Oyster Pond captainolivers.com-87 48 01
8.       Rent a car and drive, not one of those driving tours
SXM is a small island and easy to navigate. In fact the most annoying thing is the traffic. Because of its popularity, there are a lot of residents and visitors with cars, so be prepared to have some patience. Often the tour operators charge exorbitant prices, but all you really need is a valid driver's permit a map and the island is easily navigatable.
A favourite rental agency has been Paradise Car Rentals with main operations on the Dutch side and a kiosk in the airport.
http://www.paradisecarrentalsxm.com/
In Marigot the operators a little bit less reliable, especially those at the ferry complex. If you must choose from here, go with Lucky's Car rental.
When you drive SXM you get the true feel of the little island, stop off for lunch at a French restaurant or Bistro; stop at the lookout on the main road to Orient Bay and snap some fantastic photos or; go shopping in Phillipsburg and Marigot with the convenience of your ride waiting for you.
At night when you want to find that superb eating hole, take your own ride, taxis are very available but often a little pricey and many charge night rates much higher than their day rates. With your own rental, you have the luxury of being on your own time and will end up saving on cost for sure.
Remember driving here is like in North America, on the right hand side but with a distinct Caribbean flavor. Do not be too annoyed if the driver in front of you decides to hold a conversation with someone on the side of the road and please be prepared for sudden stops by driving a safe distance away from the vehicle in front of you. The roads are relatively narrow but easy to navigate so just keep your head on and eyes on the road, let your passengers relate to you the paradise they are seeing and you can catch up on that next lookout!
9.       Go to Lee's Roadside Grill
In SXM there is a very wide range of choices when it comes to fine dining, medium level and fast food. None really encompasses all more than Lee's Roadside Grill. It is not your sophisticated upper class French restaurant for the romantic dinner, but it certainly keeps in the theme of what makes SXM so very special.
Lee's is located on the Dutch side of the island and is just across the bridge if you are coming from the airport on the left hand side, or of course on the right hand side of the road if you are approaching the big bridge that lifts during the day to let the big boats in and out.
Go there for the best Bar-B-Que chicken, the most hearty sides, the best grilled snapper and great service. On top of that, there is more often than not, live entertainment and an interactive night with local artistes is a guarantee. Every night visitors throw everything aside and often take to the floor when they are delighted to hear one of their favourite tunes come alive with a Caribbean flavor added to it.
http://www.stmaarten.org/Restaurants/LeesRoadsideGrill.html
Reservations are recommended though most times there is room with the spacious seating. Take a table overlooking the ocean or in front of the entertainment, your choice. The menu here is a healthy one with all the grilled foods and vegetables available, helping are fairly large and drinks are as good as they come in the Caribbean, strong meaningful and leaving you wanting to go back!
Lee's has a homely feel as well and they make you quickly shake off any apprehension to entering a strange place and make you family before the night is over. If you are here for a lengthy stay, you will be back more than you planned for sure. Reliability in service, good food and entertainment, very good prices and accessible location makes Lee's Roadside grill our pick for this island of SXM.
10.    Beach activities in SXM
SXM is renowned for its Caribbean beach activities and there is a menu to choose from, one or more of which is bound to be for you.
Choose from sailing, surfing, body-boarding, wake-boarding, jet-skiing, para-sailing, windsurfing, snorkelling, kayaking, and now, the latest fad, 'Kite-surfing' or 'Fly-surfing'. The many schools available on the main beaches of the islands make it easy to take part in one or many of the above.
Beaches to enjoy activities at include:
On the Dutch Side:
Cupecoy Beach; Great Bay Beach; Little Bay Beach, Maho Beach and Simpson Bay Beach.
On the French Side:
Orient Bay Beach; Grand Case Bay Beach; Baie Rouge Beach and Pinel Island Beach
This island is a hub of excitement, partying and frolic and you may have to look a little more for that quiet solitude especially in the high season months. Still it is all in good fun and quite enjoyable. 
Dutch (Sint Maarten) and French (Saint-Martin) mark a marriage between nations that has transcended to the people of the island. SXM comes high up in our "must-sees" in the Caribbean region and though somewhat oversubscribed and highly commercialized at times, one is bound to find something that suits them with the choices available. Many visitors have fallen in love with this chunk of the Caribbean and made it their permanent or holiday home. The people of the Caribbean region have made it the most desirable holiday spot for them to visit. With easy access from world hubs, its expanding airport facilities and great package deals to get there, why not chalk it up for your next Caribbean destination.
View Larger Map