Plan The Tobago Holidays Of A Lifetime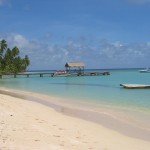 The tiny island of Tobago, West Indies shows travelers that paradise comes in small packages. Only 116 square miles, the island's abundance of offerings keeps you wondering why it isn't saturated with high-rise hotels and surf shops. Tobago is home to empty beaches, exotic wildlife, lush landscape, mouth-watering cuisine and wonderful local people. Discovering Tobago is like hearing a juicy secret.
Sometimes called "Robinson Crusoe's Island", Tobago is a year-round paradise. There are only two seasons, dry and wet. The island lies south of the hurricane belt, and with its sister Trinidad, makes up the southernmost islands in the Caribbean. There is truly something special about Tobago. A vacation here will steal your heart and rejuvenate your soul. Try these top ten ideas for your stay on the beautiful island:
1.       Go to No Man's Land:
This is easily one of the lovliest beaches on the island. It is accessible by boat generally but for guests that stay in the new gated development of Samaan Grove Estate, it can be reached via land. Visitors have found staying on this secured compound very satisfying with the luxury rentals available.
Stay at a rental called Seraphina Villa: http://www.tobagovillasforrent.com/make-your-booking 
Seraphina Villa has the largest saltwater pool on the compound. Bookings go relatively fast at this Villa due to its location and the fact that it is a new entrant on the Tobago rental circuit. From here guests can take a private road that leads straight onto No-Man's land, one of Tobago's best kept secret spots. Feel like Robinson Crusoe and spend the day with your own private beach!
 2.       Visit Pigeon Point:
Pigeon is one of most beautiful beaches on the island and indeed, the southern Caribbean. There is an entrance fee (approximately USD$6 per person) but the water is made of lovely shades of greens and blues. There is a bar located on the compound as well as food, a little pricy but clean and very good service. If you are going to Pigeon Point make it a day out because you can also catch a boat ride to the Bucco Reef and Nylon Pool from here as well. The trip costs approximately USD$15 per person and its about 2hrs long. There are umbrellas and beach chairs as well as covered picnic benches for rental as well for a minimal price. There are also life guards on duty and bathroom facilities. For the adventurous, there are jet-skis, banana boats and kite-sailing shops as well.
3. Driving tour around the island:
Get that map out and prepare yourself for an amazing day of flora and fauna. The advantage with Tobago is that this phenomenal ecological wonder can be driven around in one day. Make sure and have a tank full of gas; stock up on that bottled water and sandwiches. A not so well known fact is that Tobago boasts the oldest legally protected reserve in this hemisphere — the main ridge Pigeon Peak Reserve, established in 1765. Make stops for wonderful shots and breaks at the following Bays:
Charlottesville; Bloody Bay; Englishman's Bay; Castara (fishing village); Plymouth; Arnes Vale;
4.       Eat Crab and Dumplings; Eat a roti
Being all day on the beach can work up an appetite, so it's only natural that eating is a favorite pastime in Tobago. Although it's a small island, a wide variety of cuisines and dining experiences are available. Fresh fish, steak and native vegetables serve as the centerpiece for delectable dishes.
The flavors of Creole, Caribbean, Asian and European cuisines infuse the culinary style and you can choose from a casual or formal dining experience—there is something for everyone to feast on. The international offerings are first-class, but you must experience the local cuisine by sampling some of Tobago's specialty dishes. Crab and Dumpling is a local favorite and a must-eat! Blue crabs are cooked whole in their shells, soaked in curry sauce and served with flour dumplings.
For those looking for a casual meal on a budget, Roti is an excellent choice. Roti is an Indian pancake wrapped around potato and chick pea curry with chicken, shrimp, beef or goat. For dessert or a sweet snack, you must have a Benne Ball. A Benne Ball is a tasty confection of sesame seeds bound with corn syrup and brown sugar. Yum! There's nothing like tasting a local dish in the place it was born—it will never taste better. Some are spicy and some are sweet. They are all delicious and will keep you biding your time until the next meal.
 5.       Go bird-watching:
Bird-watching is one of the most popular visitor activities on Tobago. Although a small island, Tobago offers a great variety of natural habitat for birds including tropical rain forest, mangrove swamp, marshland, open country, scrubland, gardens, parks and coast. Good bird-watching areas include the Tobago Main Ridge Forest, the Hillsborough Dam district, Grafton Estate at Stonehaven Bay, the Roxborough-Bloody Bay road and Charlotteville village. The uninhabited island of Little Tobago (about 5 kilometres out to sea) is a seabird sanctuary off Speyside – the most easterly tip of Tobago, on the rugged, windward, Atlantic coast.
 For the more serious bird-watchers out there the many capable guides: 
6.       Take a glass-bottom tour
A long pastime of Tobago, the glass-bottom boat tours still exist in all their glory to this day. Visitors can either head down to Store Bay Beach or Pigeon Point. Many visitors prefer taking the boats at Pigeon Point as there is no touting and guests can easily step down off of the jetty and it makes carrying small children especially easy.
Tours can be arranged to the Coral reef; Nylon Pool and No-man's land. The reef tours are not impressive at all as the corals of Tobago are a long gone attraction, over exploitation and pollution by coastline activities have all but killed all coral life. The Nylon pool and No-Man's land segment however make up for this and guests are guaranteed not to regret the tour after making these two stops. Try to arrange a lunch (Bar-B-Que) at No-Man's land.
7.       Hike To Argyle Waterfall
Take a hike to the Argyle Waterfall, hailed as the most beautiful on the island. Be sure to bring your swimsuit and camera. Go for a swim, snap dramatic photos and soak in the sun for an unforgettable experience. The Argyle Waterfall has three levels and is 54 metres tall, the tallest waterfall in Tobago.
The Argyle Waterfall was named after the sugar estate on which it is located. Although the estate no longer exists, the waterfall is still a sight to behold, especially during the rainy season when there is an increased water flow.
 8.       Attend a goat race:
A long time tradition of this island paradise and certainly unique in the Caribbean. Tourists and locals alike marvel at the seriousness this sporting event attracts. Owners treat their goats like fine Kentucky-bound Phillies and it is rumored that there are sizeable bets made prior to the marqee match-ups, whether this is in the form of money or the rivals goat is another story altogether. What is clear that good fun, comradry is there for all to enjoy.
 9.       Attend the Great Race:
A premier event on the island, this race attracts visitors from throughout the racing world. The Carib Great Race, first held in 1969, sees powerboats racing from Port-of-Spain to Scarborough, a distance of 93 miles. Boats end their trek at Store Bay giving fans, well-wishers or just curious visitors a true adrenaline rush with the sheer power of the engines. Not an attraction for the quiet-seeking tourist but certainly a sight to behold.  The Caribbean version of Nascar and Indy 500 on our beautiful waters. Lots of visitors go for the many parties rather than the fanfare of the race. The Great Race weekend is renowned to showcase the "Carnival-type" culture of the citizenry of Trinidad and Tobago. The race is usually held in August or September, check the schedules that are always online.
 10.   Go to the Scarborough Market:
To truly enjoy the wide array of Caribbean culture one of the best ways is through its foods. Tobago offers visitors a clear insight into its cuisine every Sunday morning in the main town of Scarborough where local vendors ply their trade. Just a stone's throw from the bus station, a cinema, the capital's post office and the library, this outdoor market's specialties are fresh fruit and vegetables, fish and other local fare. The busiest period for the market is on Fridays, Saturdays and early Sunday mornings. Scarborough Market is popular with locals, but visitors are even more captivated by its vibrant atmosphere and they are equally taken with the friendly vendors on hand. No need for credit cards here, as cash is the payment of choice.
View Larger Map