Enjoying Montserrat Island To The Fullest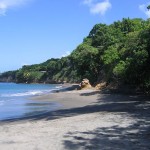 Nicknamed after its rich Irish heritage (Ireland is called the Emerald Isle as well), Montserrat is a lovely little island just north of Antigua and part of the Caribbean archipelago that constitute the Lesser Antilles. This little island is small – 16 km (10 miles) long x 11 km (7 miles) wide, giving it approximately 40 kilometers (25 mi) of coastline.
The Island of Montserrat is a special one in the Caribbean region. Devastated by the eruption of a Soufriere Hills volcano back in 1995 and large flows of note as recent as February 2010, it is still on the road to recovery in its various sectors.
Much of its southern coasts have been ruined including its once vibrant capital Plymouth, just an ash and pyroclastic covered symbol of its former self. This has led to the introduction of a strict "exclusion zone" where the resident scientists and administrators on the island have decided to better be safe than sorry. This zone extends from the Southern Coasts of the islands and stretches north from thereto parts of the country called Belham Valley.
The volcano with all its renewed activity has emerged as a major attraction to Montserrat. This island has once more become one of the truly unspoilt territories in the Caribbean. It is brimming with new life in its eco-system and new life in the cultures and business aspects. 
Have a look at the top ten things to do on Monserrat Island.
1.       Visit the Volcano…of course
Visitors to Montserrat get a rare view in a tropical setting of an active volcano. There are many vantage points throughout the safe zones of the island to see the smoking giant. This is an experience of a lifetime when one takes into account that this volcano had laid dormant for hundreds of years. There are a few options to view the Soufriere Hills Volcano, the best is from the vantage pint of a boat. There are boat operators that take you around the coast and you can have a first class view (weather and volcano conditions permitting).
It is also recommended you visit the Montserrat Volcano Observatory (MVO) where you see firsthand the constant monitoring of the Soufriere Hills Volcano. State of the art equipment is on display and guests can seek explanation on how the complicated tasks are performed. Go see the stunning videos, learn facts from the touch-screen display monitors or read information posted on the walls. The staffs at the MVO are always willing and extremely able to answer any questions or queries.
Make sure you have a pair of binoculars as from the MVO and various safe vantage points you will need the extra eyes to view the Volcano and its path of fury. 
2.       Go Bird watching
For the nature lovers, Montserrat is a bird watchers paradise especially with the likes of the rare national bird of Montserrat – the Montserrat Oriole. This bird is endemic to this island and we recommend you hire a guide from The Montserrat National Trust to ensure you get the maximum out of your expedition:
Telephone: (664) 491 3086; e-mail mnatrust@candw.ms or; website www.montserratnationaltrust.ms 
Other rare varieties of birds such as the endangered Forest Thrush and the Quail dove can also be sought on your bird-watching expedition. The Center Hills region has been designated as one of the last remaining havens for Montserrat's rare birds and efforts towards conserving this area has been ongoing. You also have the choice of the Oriole Walkway Trail. This starts at a location called Hill Top. On this trail along with the bird-sighting one will enjoy the rich flora and fauna as well as breathtaking views of the Silver Hills.
Other species of interest when you visit this area can be the rare galliwasp lizard, the endemic Montserrat orchid and the mountain chicken – the resident frogs (national dish of Dominica!) So grab your guide book (small cost of approximately USD$12-$14) at the Montserrat National Trust Center and grab your guide (recommended) and let him/her lead you through the wonders of this bird watchers paradise. Track through the forests of Montserrat in marked trails and make sure you have that camera on the ready. Ask for one of the more experienced guides as a lot of them imitate the call of the Montserrat Oriole and you know what? It seems to work!
3.     Snorkel on a reef
Rendezvous Bay Reef is our pick for the holiday visitor. It does not involve scuba diving and it is off of Montserrat's only white sand (we find it really a little light sandy-brown) beach. So beauty of pristine waters, a lovely beach and a reef, we can't go wrong! We recommend you go by sea and not take the trek via hiking if you are in a pure relaxation mode. There are boat operators available and your hotel, guest house or villa operators can organize them or you can call any one of the following yourself:
Danny Sweeney                                                                                                             
Old Towne                                                                         
Tel: (664) 496 0574
Email: mwilson@candw.ms 
The Green Monkey Inn and Dive Shop
Little Bay
Tel: (664) 491 2960/ 496 2960/ 496 DIVE
Email: troy@divemontserrat.com
Website: www.divemontserrat.com
Hubert 'Buffy' Buffonge: Little Bay – Tel: (664) 492 1570
If you are interested in experiencing nature, watching wildlife and conquering a fairly moderate to difficult hike for an amateur, then by all means, hike and reward yourself with the beach at the end. We like the sea-route for this adventure as it allows for the easier transport of snorkeling gear and other amenities. Rendezvous Bay does not have any facilities on its beach, so you walk with your water, hat, sunscreen and other essentials.
4.       Take one of the Favorite Hikes in Montserrat  
On this quiet little island, hiking is a pleasant pastime that can be enjoyed by all. Montserrat is as natural as it gets in the Caribbean perspective, there is no overdevelopment or crowded streets and the once hideaway of the rich and famous is accessible to all.
Jack Hill Hike: Start your morning at the renovated facilities and take this moderate to difficult hike up the hill. Visitors are able to view what was once the Montserrat Bramble Airport, now under ash and mud. The area is pleasant for picnicking and has toilet facilities for visitors. It is recommended for that pleasant day outdoors;
Katy Hill Hike: For the very adventurous, hikers can continue to a difficult hike to Katy Hills up from the Jack Hill turnaround point;
The Cot: A nice hike, moderate and offers spectacular views of the ocean and peers into parts of the island's history as it passes through an old banana plantation and an abandoned house of a once prominent family;
Little Bay to Rendezvous Bay: This hike is a nice one but fairly difficult. It allows you to hike from Little Bay to the only white sand beach in Montserrat. Hikers can chose to hike back or have a boat meet them on the beach and take it back after your dip in the sea. We like this second option best;
The Blackwood Allen Trail: Another hike spawned from the famous Center Hills. Visitors can begin this hike either from the Grand View B & B in Baker Hill or in Mongo Hill next to the Seventh Day Adventist Shelter.The trail allows for stunning views of the coastline. You also pass a stream where you can cool your feet.
5.  Fishing
The healthy waters off of Montserrat offer rich bounty for fish enthusiasts at all levels. Whether fishing from a launch or from the shore is your preference, Montserrat has it all in this area.
Catch from Caribbean favorites such as Wahoo, King Fish, Red Snapper, Mahi-Mahi and Tuna.  Cook it Caribbean style when you get it, on the grill, steamed in vegetables or in a soup (fish Broth).
Fishing supplies and water transport can be easily organized with your hotel as there are a few providers of this service.For those of us that prefer the fishing from the shore, Little Bay, Road Bay and Rendezvous Bay all offer very good spots.
Lots of visitors prefer the chartered boat option as it not only allows you the opportunity to bring out that hunter spirit, but also offers the best views of the island, fishing with a view, what could be better?  You will also find a charter to suit your pocket as the vessels are highly competitive and want your business. This will be the highlight of your trip when you experience deep sea fishing in the Caribbean.
6. Relaxing time
Montserrat is one of the few Caribbean islands in our times that you can truly find solitude and relaxation. It is perfect for getting away from the rat race, stress at work and the arduous lifestyles we have all developed that take away from true human existence.
Montserrat's serenity is nothing new either. Once home to the world renowned AIR recording studios, famous artistes found brilliance and inspiration from these shores. The likes of Elton John, Duran Duran, The Police, Sting, Black Sabbath and Sheena Easton all were here to name a few. Why can't you share in the magic that they once felt?
If you never get the time to read that novel or listen to quiet or force yourself to relax, Montserrat will do that for you. It is safe, serene and once again, in that untouched category of the exotic Caribbean.
So come on, cast aside the smartphone, texts, e-mails, tablet, laptops and what ever else the tech-geeks have you spending your hard earned money on. Live for you, relax in a hammock, bask in a beach-chair, stay in bed with the fan on you and snooze the day away. This is also Montserrat at its best, where you will rediscover your existence.
7.       Turtle Watching
Though not the mecca of turtle-watching as Trinidad is, Montserrat does give you easier accessibility to witness the annual trek of these magnificent creatures of the deep. Go between the months of August and September for the nesting season and see the Hawksbill, Green Turtle and Loggerhead come up at night especially and dig their holes, lay their eggs, cover their nests and make their way back to the ocean. It is another experience of a lifetime that can be easily seen in Montserrat. We recommend you contact the Montserrat National Trust and book a tour through their offices.
You do not have to be a nature lover to be intrigued by this act of nesting by the turtles. The Caribbean has that advantage over many parts of the world, offering visitors a truly once in a lifetime treat in this area.
8.       Scuba dive
Before the eruption of the volcano, Montserrat was tranquil and lovely with a little or non-existent negative impact on its environment. Now with half the population (12,000 estimated) off the island having fled to neighboring islands or the UK, the island is even more pristine, if that was possible. The diving here is amongst the best you will find in the Caribbean for the corals and variety of sea life it supports.
For Scuba diving there are two main providers highly recommended:
1) Scuba Montserrat – the full package can be gotten from this company. From scuba and/or snorkeling adventures and classes through their certified instructors, to volcano boat tours, kayaking and even nice picnics on specific beaches.
http://www.scubamontserrat.com/Scuba_Montserrat_Home.html
 2) The Green Monkey Inn and Dive Shop – Contrary to their name, there is no monkeying around when it comes to service. They offer snorkeling rafts,  inflatable dive kayaks and other fun in the sun items. They also have a wide variety of diving and snorkeling packages. They have certified instructors and will even offer guided tours to the various sites. To top all of that off, they even have a bar (the Monkey bar of course) where you can kick back and relax after your trip.
http://www.divemontserrat.com/
Some of the best dive sites include:
Woodlands Bay; Lime Kiln Bay; Bunkum Bay; Potato Hill Reef and; Rendezvous Bay.
So what are you waiting on? Experience the Caribbean for what has made it a renowned household name in the tourist world as an exotic destination – go into the warm waters and see what phenomena awaits you!
9. Black sand beaches
Those of you that have been lucky enough to visit Greece will understand when some compare the Montserrat beaches to those like Kamari, Santorini in the Greek archipelagos. For those of you that don't know Greece, well simply, the beaches either have black stones or black stones ground into black sand. Yes, we know that the Caribbean is known for its powdery white sands and turquoise blue waters but do something different while on this island, the waters are still that warm Caribbean warm, snorkeling is still amazing and you always can go to Rendezvous Bay if you are overcome with the need for that soft white sands. But you won't be overcome with sadness because Montserrat's black beaches are full of history, good fun and relaxation.
Try the recommended beaches such as:
Woodlands Beach: Quiet and with very good picnic and Bar-B-Que facilities, this beach allows visitors to look out over the beautiful landscape and ocean and enjoy a meal and the sea as well. This is one of the favorite spots on the island;
Carr's Bay: Rich in history and opportunity to relax and enjoy the water. Go to the southern end of the beach, snorkel and marvel at the mammoth boulders and beautiful reef;
Little Bay: One of the more lively beaches with beach bars and vessels plying their trade. Have a nice day relaxing while looking at others hard at work!
10. Eat the cuisine – Goat water
The national dish of Montserrat is goat water. This consists of chunks of goat meat cooked in a soup of thick and tasty stew and is made of mutton and spiced with cloves and rum and originates from the rich Irish heritage of the island.
Though the name is not necessarily appealing, you should at least try it once. How will you know if this is not the dish you will be making for future thanksgiving dinner or Superbowl Sundays? Not likely but still…try it.
Locals and visitors alike partake of this fabled dish any time of the day, most hotels will have it on their menus and many will prepare it to your taste buds, a hint is not to ask for too spicy as the Caribbean version of hot is a bit high on heat units.
Have your Montserrat goat water with a nice crusty bread roll and a local drink on the side. Ask for a freshly squeezed papaya, guava, mango, tamarind or soursop drink to name a few. Have this for your meal and we can tell you with authority, you are going to sleep like a baby tonight. This is what Caribbean holidays are made for, eat, sleep and be happy.
As the national dish, to name a few restaurants will not be fair, but for convenience, ask your hotel staff at the front desk where serves the best goat water in the area, trust us, they will know.
Montserrat Quick Facts:
Seldom known to many but Montserrat is the only country outside of Ireland to have a national holiday for St. Patrick's Day. Such id the richness of its Irish culture.
But that is certainly not all with the modern day Pompeii that the former capital city of Plymouth is referred to. Visitors can capture a once in a lifetime look into one of the only active vibrant volcanoes in the Caribbean.
Many of the old schools of thought say that Montserrat is the way the Caribbean used to be, the feelings of peace and tranquility seen on the faces of the locals and soon on the visitors after a few days here. The island looks untouched, it was once a hideout for the super-rich with their magnificent villas and private abodes and has gone full circle in the shortest amount of time to back being an eco-paradise and as always welcoming to everyone.
Montserrat is always a destination of beauty coupled with its friendly people, the rich culture, the serene surroundings and the potential for adventure and fun, you will enjoy the Emerald Isle of the Caribbean and be back for more.
View Larger Map