Plan The Best Trinidad Holidays Starting Here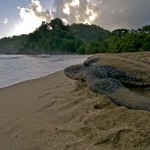 Trinidad is one of the most diverse islands in the Caribbean. Visitors to this island are amazed at the different cultures, traditions and people living in harmony. Not renowned for it's beaches there is still plenty to do in Trinidad especially when one explores its extremely rich flora and fauna. Just as impressive is the food adventures you can have while on a visit here. The fusion of cultures has given rise to a very distint blend of culinary art that is very pleasing to anyone's palate. Read on to find the Top Ten Things for you to do in this island.
1.       Go Turtle Watching
A seldom known fact is that Trinidad is one of the most important nesting grounds for the endangered leather-back turtles in our world today. In the high of the nesting season visitors can witness over 300 of these ancient sea giants emerging from the sea, laboriously crawling past the water's break point, using their huge fins to dig deep holes and then laying the eggs. They then cover it all up and haul themselves slowly back into the ocean. It certainly is one of the most awe-inspiring events you will ever witness.
In Trinidad, conservation is very high when it comes to these dinosaur like creatures and companies such as "Nature-Seekers" make the extra effort to ensure the safety of the turtles.
For that perfect tour of Mathura beach and a once in a lifetime adventure book with Nature Seekers. High season for the turtles is between March and August with a high period during the month of May, so plan accordingly!
Telephone/Fax: (868) 668-7337 or Cell:  (868) 366-1031
Email: natureseekers@gmail.com
2.       Visit Asa Wright Eco-Center, Arima or The Wild Fowl Trust, Point-A-Pierre
Trinidad is recognized as one of the most ecological diverse islands in the West Indies. The country easily supports a vast number of mammals, birds reptiles, amphibians and butterflies. Two of the best places to experience the natural wonder of Trinidad in a controlled environment is the Asa Wright Eco-Center and the Wild-Fowl Trust.
Asa Wright Eco-Center, Arima: Recipient of many local, regional and global awards, this nature reserve will be palatable for those amongst us that are real conservation buffs and those that want to experience the peace of an aged old reserve protected by a handful of caring citizens and supported by several international bodies.
Indeed long before the term "eco-tourist" was adopted, the Asa Wright Nature Center hosted many a foreign botanist, entomologist and other naturalists. Because of its location in the mountains of Trinidad's Northern Mountain Range, one will see wildlife at vantage points not easily found in other parts of the country. Being over 1,200 feet in these mountains also make an ideal habitat for many flora and fauna alike. Also, Trinidad's close proximity to South America explains the wide array of diversity amongst its wildlife.
Visitors are also welcome to stay at the Asa Wright Center as well. Imagine waking up to the calls of the forest in the morning, walking out to have your breakfast and watching the Center and its creatures come alive. This would be a treat for any visitor that has her/his mind set on nature, conservation and indeed appreciation of life. Do not go here for the modern conveniences, but rather for that "back to nature" visit that all of us should experience.
Wild Fowl Trust, Point-A-Pierre:
Actually located within one of Trinidad's largest oil refineries! This unique escape is immensely picturesque and stunning to the naked eye. Visitors can take a trail that leads them around a lake viewing wild ducks, the scarlet ibis, swamp birds and even the Trinidad version of the alligator called a Cayman.
Certified guides made up a lot of the times of young volunteers take you on walking tours or you may choose to follow a trail by yourself. We recommend the tour as the guides relate to you the characteristics of this natural wetland, its various flora and fauna and the contribution to the eco-system. You will get a chance to see the famous scarlet ibis (one of the national birds of Trinidad) up close as they are kept in a protected area for breeding and release. Also you can see the peacocks wandering around and in their own protected area.
Look out over the lake and you may see the beady eyes of the Cayman looking at you, monitoring your movements, but don't worry, they keep their safe distance and have no desire to get closer to you. You will be given a close up tour of many different trees, shrubs, ferns and undergrowth which will illustrate to you the rich diversity of Trinidad's eco-system. As you wander further, keep your camera close as the many colorful swamp birds may past by in a flutter. These are rare to the country's landscape and this may be your only chance to capture their photos to remind you of the beauty you witnessed at the Wild Fowl Trust.
3. Doubles/coconut water/ Conch cocktail/ Pudding/Wrapped roti/Shark & Bake
Switching away from Nature, Trinidad is also renowned for something else…its food! The food is positively delicious, tasty and reflective of the blend of people, their cultures and culinary flavors.
Here are our suggestions for just a few of the numerous adventures involving food you can take:
Doubles: Eating this food is a favorite pastime of most locals. Indeed many people become almost territorial of their chosen "doubles vendor" and there are many to be found throughout the country. Make sure and see an updated food or health badge being displayed or worn by the vendor before purchasing. Also, follow the international status quo, go where you see all the locals gathering and it is bound to be good.
What are doubles?
i) Bara – Essentially seasoned flour dough that is lightly fried in oil not to make it crispy but just to hold a texture that facilitates one to hold it and eat it comfortably;
ii) Channa – that is curried chick peas or Garbanzo beans are then placed between two of the bara and;
iii) Spices of various kinds – This can vary from very very spicy pepper sauce to grated or pickled mango, cucumber, pomme cythere (also known as golden apple or June plum or tamarind if it is in season;
iv) Waxed paper or parchment paper – unique to doubles, the food is placed on this paper and people use this as their plate. It is usually folded if you are taking it away and placed in brown paper bags or handed to you on this paper for you to eat there.
The channa is poured between two bara and sauces to you request is added and placed on the paper and there you have it. Enjoy one of the best street foods Trinidad has to offer. Though not breathtaking in appearance, take the chance and take that first bite, you will not regret it.  
Coconut water: Any visitor to Trinidad will see many coconut vendors scattered throughout the country. Around the famous Queens Park Savannah (actually the world's largest round-a-bout) there are many fine choices. Find one where there is a park bench close by, observe them at a safe distance artfully chop the coconut open in their hands with a very sharp machete and enjoy the sweet water that follows. You can ask for a "water-nut" if you want predominantly sweet water or a "jelly-nut" for a mixture of water and jelly inside. For the second option, you hand the coconut back to the vendor after drinking and look at him split the nut open and give you a spoon made from the coconut itself.
Oyster Cocktail: Yet another wow street food found in Trinidad. It is made from oysters caught the same day and served in a sauce of varying spice levels. Locals traditionally have it on a Friday evening. This will not go down as the most attractive dish you have ever had, but the sauce that makes up the cocktail is well worth it! Ask for a "singles" for a light taste or a "doubles" (don't get mixed up with the bara and channa here – this is a "double-shot!") if you think you can handle more. Oysters are typically harvested in Trinidad's eastern shores and kept in their shells submerged in water. When you order your cocktail, they shell it in front of you, wash it and concoct your mixture, our advice is to take one with gentle spice to begin. Watch out for your allergies remembering this is a sea shell-based delicacy.
Black Pudding: This popular dish of Trinidad is made by cooking the blood of a cow and drying it, it is then mixed with a filler until it cools and congeals. If you are a black pudding lover, we recommend Charlie's Pudding located at the top of Ruth Avenue, Circular Road, San Fernando. Have it with some spice and you will be telling your friends and family about this dish's delicious taste for years to come, guaranteed! There are several other branches of this establishment that have opened, but we like going to the source for that taste that has so efficiently fed hundreds of thousands of people over the years.
Wrapped Roti: Another favorite of locals in Trinidad. This dish is prepared by making dough from flour and water and stuffing it with a blend of yellow split peas, cumin (or geera as the locals refer to it), garlic and pepper. It is then flattened using a rolling pin and cooked on a flat iron base called a tawa (tawah). From this process a roti called a dhalpourie is produced and this is then stuffed with scrumptious fillers like favorite types of meats stewed, curried or even "curry-stewed". With this one can ask for other  fillers like Bhaji (local spinach), curried Channa (chick peas), pumpkin and of course you can order it with or without pepper. Our recommendation is for you to ask for slight pepper. For the best wrapped roti go to Patraj roti shop located on Tragarete road, Port-of-Spain or in the south of the country, Amin's Roti shop located on the Southern Main Raod, Marabella or Mona's Roti shop opposite the Marabella Police Station. Again, these places know their stuff and your taste satisfaction is a guarantee!
Go to Maracas for Shark and Bake
Being positively featured on a popular international travel show certainly resulted in a price hike but did not take away from the high quality of one of Trinidad's most popular foods. Visitors are encouraged to take the breathtaking scenic drive to Maracas Bay and reward yourself with this native dish. It basically consists of a batter fried fish fillet served between fried bread (called bake) and topped with delicious sauces (your choice of spicy or not) and fresh vegetables. The selected combination soaks into the bake and enhances your eating experience. Buy from "Richards" (look for the longest queue) and your satisfaction is guaranteed.
There are many substitutes, imitators and replicas of the original shark and bake found in Maracas, but a visitor should experience the real thing, take the picturesque drive over the hills and reach your culinary destination. Also, if you are not a shark lover, don't sweat it, there are other varieties of fish fillets you can buy and trust us, with the dressings available, you will not really be able to tell the taste difference. Toppings include, shredded cabbage, green mango salsa,  tomatoes, pineapple, cucumber, sauces such as tamarind, garlic, Chadon Beni seasoning, pimento, Bar-B-Que and very very hot pepper! Our recommendation, put as much as possible and enjoy the fusion of flavors bursting in your mouth as you take a bite into your bake and shark.
4.       Visit the Pitch Lake
Trinidad has one of the fewest pitch (tar) lakes and actually the single biggest deposit in the world. Located in the South Western part of the country, it takes the form of a huge black mass, not pretty to the eye but certainly a natural wonder in the world. But beware, this lake is located in a part of the country that involves quite a bit of driving so be prepared for a trip and especially near to the lake the roads are quite bad, attributable mainly to the veins of the lake that stretch for many miles below the surface.  
Also, the area you will be going into is not a wealthy area and there may be a few opportunists wanting to charge you for a "tour" that is nothing more than a way to tout money from you. Let your hotel make arrangements for you in advance to ensure you get a legitimate tour. Another seldom known fact about the Pitch Lake is that it has been exported over the years to pave roads all over the world to countries such as the United States, India, England and even Japan to name a few. The Pitch Lake was called "Tierra de Brea" or the "Land of Tar" by the native Amerindians. In 1595, 
5.       Shop in Trinidad
From large shopping malls to family owned corner shops to roadside vendors, Trinidad has it all when it comes to shopping. Indeed people from many other islands visit Trinidad just for the shopping. Trinidadians (as the locals are referred) are very creative people. You can find many locally made items in the plentiful shopping establishments throughout the country.
For your souvenir items, we recommend you take to the streets and get the bargains. From miniature steel pans to dolls to leather sandals, something is bound to spark your interest. Also grab one of the tee-shirts which capture the local dialect, the insatiable humor that "Trinis" are known for and its translation. The Trinidad garment industry is also the envy of the Caribbean with many bargains and high quality products. For the serious shopper, one can go to Port-of-Spain (the nation's capital city) or Chaguanas (located in the western central section of the island).
Also a wide array of jewelry, many of which are hand-crafted by skillful local jewelers are available – go to Maharaj Fine Jewelers. It goes almost without saying that you should also pick up a CD with the latest mix of local music. Try the calypso or the more modern version called soca. Try any CD with a mix of the following artistes: Destra; Patrice Roberts; Benjai; Machel Montano; Kes the band and Blaxx.
Also make sure and pick up a copy of a nice steel pan CD. Trinidad is home to this lovely musical instrument and one can find works by top steel pan bands involving classical music, the latest local tunes or even the oldies from the 60's and 70's. Try the following bands:  Skiffle Bunch, All-stars, Desperadoes, Renegades or Angel Harps.
6.       Stay for Carnival
Staying with the concept of entertainment, if not already known, Trinidad is famous for one other thing besides its food, rich diversity and natural wonders…its Carnival. The Carnival period really begins after the Christmas and New Years holidays and leads up to a final parade of bands held on the Monday and Tuesday before Ash Wednesday.
The lead up to the parade of the bands is made up of several activities including:
Parties (known locally as fetes) – and huge all-inclusive parties where food and drinks are free all for one price. one can often get a glimpse of the most popular local bands of the season performing live at these parties;
Calypso and Soca (local music) competitions – The biggest is the International Soca Monarch competition;
Dimanche Gras (Big Sunday) – In this competition the astoundingly elaborate costumes leading each band are displayed. They are called the Kings and Queens of the bands and really showcase the art of the Trinidad Carnival second to none in the Caribbean. Indeed many costume makers start on their costumes, sections and Kings and Queens sometimes eight or nine months before the season; 
Panorama – This competition showcases all the steel band companies that have qualified for the big finals. It is categorized into small, medium and large. Certainly the famous "north-stand" has become renowned not only for its advantageous views of the bands, but more so for the social aspects of eating, drinking and partying that goes on during the steel bands playing. Indeed there are those who would not go for the music but the "lime" (a local word for socializing) 
For more on Trinidad Carnival you can check out these sites:
 http://www.gotrinidadandtobago.com/trinidad/carnival/
http://en.wikipedia.org/wiki/Trinidad_and_Tobago_Carnival#Competitions
7.       Visit "down the islands"
Away from the mainland of Trinidad, visitors can go back in time with a trip to one of the many much smaller islands off of the Western coast of the island.
Fondly referred to as "dong de islands" (down the islands) by locals, you can choose to take a day trip of stay a night or two in houses owned and operated by locals.
Try http://gaspareegetaways.com/index.htm but there are several other options that your hotel can recommend as well.Down the islands offers perfect relaxation, fishing, some water sports and getting away from the hustle of the mainland. Go to Gaspar Grande Island, formerly known as Gasparee Island. This island is rich in flora and supports wildlife mainly in the form of birds. Chacachacare (pronounced Shaka-Shakar-ee) is another choice you have for almost the same adventure as Gaspar Grande.
Contact your hotel's front desk, ask them for the day trips or the night over options (according to your preference). Leave from Power Boats docking yard as this gives you the best convenience for parking if you have a rental and has a nice little pier you can just climb into the boat.
8.       Take a hike
Yet another wonderful feature of Trinidad is it's quality of hiking. Visitors can chose from the hard to the very easy. We recommend you chose a hike that takes you through one of the many forests on the island. See the wondrous trees with their magnificent canopies, the understory, the shrubs and the forest floor and all the diverse forms of life each supports.
Use a company called Hike Seekers: http://www.hikeseekers.com/index.htm
Their experience in this industry and customer care is second to none. Also the variety of hikes to choose from is excellent with this company. From the few hours to the overnight, they have it all. What better nature memories can you have than camping out on a beach waiting for the magnificent leather-back turtle to emerge from the ocean in its annual trek to Trinidad's shores. Trust us, you will not want to miss opportunities like these.
Of course there are the easier packages that take you through a stroll in the forest, where picture opportunities and close up views of the natural beauty of Trinidad are easily accessible. For these check out the easy and moderate. This company is extremely customer focused and if you have any challenges whatsoever, let them know when booking and they will be best to advise on the hike that is right for you!
9.       Go to a party or "fete"
Trinidadians (or Trinis), are renowned for their "Carnival-type attitude". Indeed all through the year they party. If you are ever in Trinidad be sure to catch at least one party. In this country the parties are known as fetes, a term inherited from the French influence on the island. The best fetes are just after Christmas and before Ash Wednesday as the Trinis prepare for their annual Carnival celebrations.
One can go to several "all-inclusive" fetes and get a preview of the year's best bands performing live the local type of music called Soca, which consists of a fusion of many types of music influenced by American Soul, African drums, Indian influences and the traditional versions of the country's Calypso. The sound of the brass instruments mixed with the rhythmic drums and the energy of the performers are a sight to behold for anyone.
At these all-inclusive fetes one can get a host of local cuisine as well as free drinks of premium liquor from all around the world. Of course the Trinis will encourage you to partake in their locally brewed beer and fermented rum which they patriotically claim is the best in the world.
10.   Visit the Bird Sanctuary
For that serene evening to enjoy another natural wonder of Trinidad, you may want to consider a tour of the Caroni Bird Sanctuary. The Sanctuary is located in the Central part of the island and by car from Port-of-Spain (the island's capital), it should take you approximately thirty to forty minutes.
The Sanctuary is a majestic natural Mangrove Wetland and home to a wide array of birds, including the most popular and exotic, Scarlet Ibis! This is the national bird of Trinidad. We recommend you book (or tell your hotel) beforehand with Nanan's Bird Sanctuary Tours – Phone: (868) 645-1305. They are the most experienced and are very reliable. Your tour will be in the late afternoon and times are specified, don't be late!
Your boat leaves the pier and carries you gently through mazes of tributaries known by your professional guides who are like talking encyclopedias. Listen as they identify the different types of mangrove, efforts in conservation and point out various wildlife in the swamp.
As the evening progresses you will leave the tributaries and open out into one of the largest lakes in the Sanctuary. From a safe distance everyone waits, your guide will shush you if you make noise, for you are about to see a spectacle that brings people from all over the world to this location.
First as small specks they will come in small flocks, then more and more until the sky is filled with color, most scarlet, some younger ones brown, the Scarlet Ibis come home to roost for the night. Walk with that pair of binoculars or high powered camera as the law stipulates a very safe distance between you and the birds. As the birlds land, the trees move from full green to red decorations as these birds look almost like Christmas ornaments. As you depart, you will see some late comers flying overhead so have that camera on the ready always.
Watching thousands of vibrantly-plumaged Scarlet Ibis, Trinidad's national bird, flocking to roost at dusk over the expansive Caroni Swamp is an unforgettable experience.
Trinidad Quick Facts:
Trinidad is the larger of a twin island state (the sister isle being Tobago). It is the most Southerly isle in the Eastern Caribbean lying just 11 kilometers (7 miles) off of the northeastern coast of Venezuela. The island is approximately 4,768 kilometers (1,864 square miles).
To say Trinidad is rich in culture may be an understatement. This island has experienced influences from Spanish, French, Portuguese, Indian, African, Chinese and Syrian cultures.
Its religious and festive customs reflect this rich diversification in the country where people live in harmony enjoying the beliefs of their fellow citizens. Trinidad is also the wealthiest island in the Eastern Caribbean in mineral wealth and this has led to a massive mining and industrial sector. Only known to a few, but Trinidad is one of the leading exporters of Natural Gas in the world. It also has oil reserves that allow many of its people to enjoy a high standard of living.
However like most wealthy territories, negative social ills have also adversely affected Trinidad. Gang-related crime and the powerful drug trade remain their main challenges. Its geographical location in relation to South America does not help as it is a gateway to North America for a lot of illicit goods. So caution is advised when visiting. It is recommended to contact the local tourist board upon arrival; they will ensure a safe and enjoyable trip. Also, your chosen hotel and accommodation will ensure your itinerary is filled with the wonders of Trinidad from the safety of registered guides and tourist companies. Stay at reputable hotel like the Hyatt-Regency; The Trinidad Hilton; The Courtyard Marriot; Kapok Hotel; Crews Inn Hotel and Yachting Center or; The Carlton-Savannah Hotel.
A visitor to Trinidad will quickly note that the richness in this islands many cultures is also matched by richness in its natural wonders, flora and fauna. Indeed travelling through a forested area of Trinidad is almost like a piece of the Amazon. Most of the reptiles, birds, small wild animals and large variety of trees in Trinidad are the same to be found on the mainland of South America.
You will agree that there is a distinct uniqueness to this territory versus all the other Caribbean Islands. Here you will not find the exquisite turquoise beaches and white sands of the other islands, but you will find the most diverse people, their cultures, easily the best foods in the Caribbean and the best flora and fauna under the Caribbean sun. For the shoppers amongst us, modern conveniences like malls and shopping centers are available as well as all the major banks found in North America.
Indeed over the years, many a visitor has fallen in love with this country, from their love for foods, fetes, nature and for life, Trinidad is indeed a special island in the Caribbean. Visitors can be assured that you will make friends for life in Trinidad.
The jovial attitudes and magnetic personalities can indeed teach us how to appreciate what we have and not to brood over what we don't. The natural wonders of Trinidad make them quite unique from their Caribbean neighbors. The island has been blessed (some say cursed) with riches from oil and gas, but Trinidad also holds riches which cannot be quantified, in its many forests, rivers, beaches, music, people and its culture. All for you the visitor to these shores to enjoy.
View Larger Map